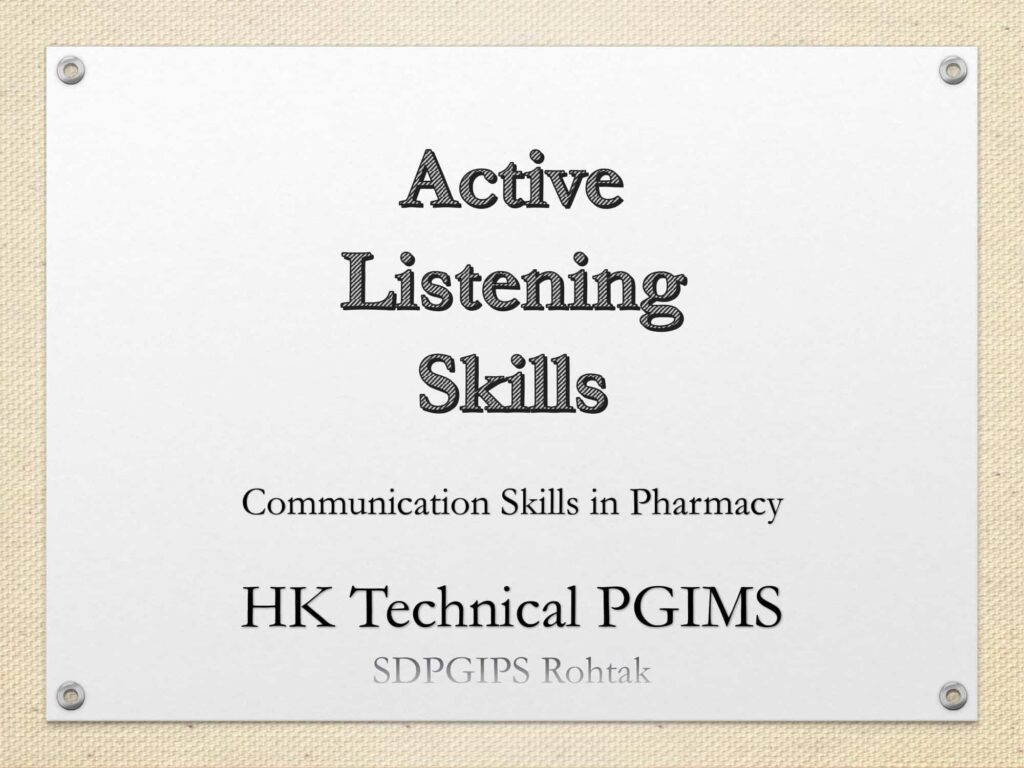 Topic Covered:
Introduction to Active Listening Skills
Types of Listening
Active Listening
Active Listeners
Common Barrier to Listening
Characteristics of Active Listener
Also Read Communication Skills Presentations B Pharmacy 1st Semester Chapter-wise
Also Read PPT on Communication Style – B.Pharmacy Communication Skills
Also Read PPT on Communication Skill, Its Importance – B.Pharmacy Communication Skills
Also Read PPT on Basic Listening Skills – B.Pharmacy Communication Skills
Download Presentations
Summarizing
Introduction
Listening is getting verbal communication through  ear which involves identifying the sound of language and processing them into words and sentences. Listening skill is the first language skill. Listening require a lot of concentration and focus. Communication is a two way process involving speaker and listener thus listening is an important part of communication. Listning and speaking are interconnected to each other. Listening is visual as well as auditory act.
Types of listening
discriminative listening – in this difference between multiple sounds is identified that's why person from different countries find difficulty to speak other language.
biased listing – happens when person hears only what they want to hear.
evaluative listening – in this we make judgement about what other person is saying.
sympathetic listening – in this we care about other person and pay close attention and show our sorrow for their ills and happiness at their joys.
relationship listening – in this we make relationship with other peoples
false listening – happen when a person is pretending to listen but is not hearing anything that is being said.
initial listening – happens when we listen first few words and start to think what they want to say in return.
selective listening – involves listening to particular things and ignoring others
Active listening
It is a way of paying attention to other people  that can make them feel that yo are listening them.
active listening is vital to gaining the trust, support and confidence of others.
active listening means being attentive and involved in the conversation.
active listening techniques are particularly self for counselling and conflict resolution.
active listening improvers your brain to works twice times the speed that someone can speak.
good leaders recognize the need to be active listener.
Common barrier to active listning
not focusing on speaker
more than one conversation at a time
topic is attractive/unattractive
you are prejudiced or biased
feeling unwell or tired
your own judgment in conversation
previous experiences
anxiety
having a closed mind
Characteristics of active listener
active listener ask questions not to embarrass or attack but to clarify and distil.
active listeners are not lazy. They work hard for to understand.
active listeners are comfortable with silence.
active listeners are willing to hear even when it is harder to hear.
active listeners do not put unreasonable question to the motive of the speaker.
active listener love people. They know that listening is connected to every aspect of relationships.
You can read more content from presentation given above.