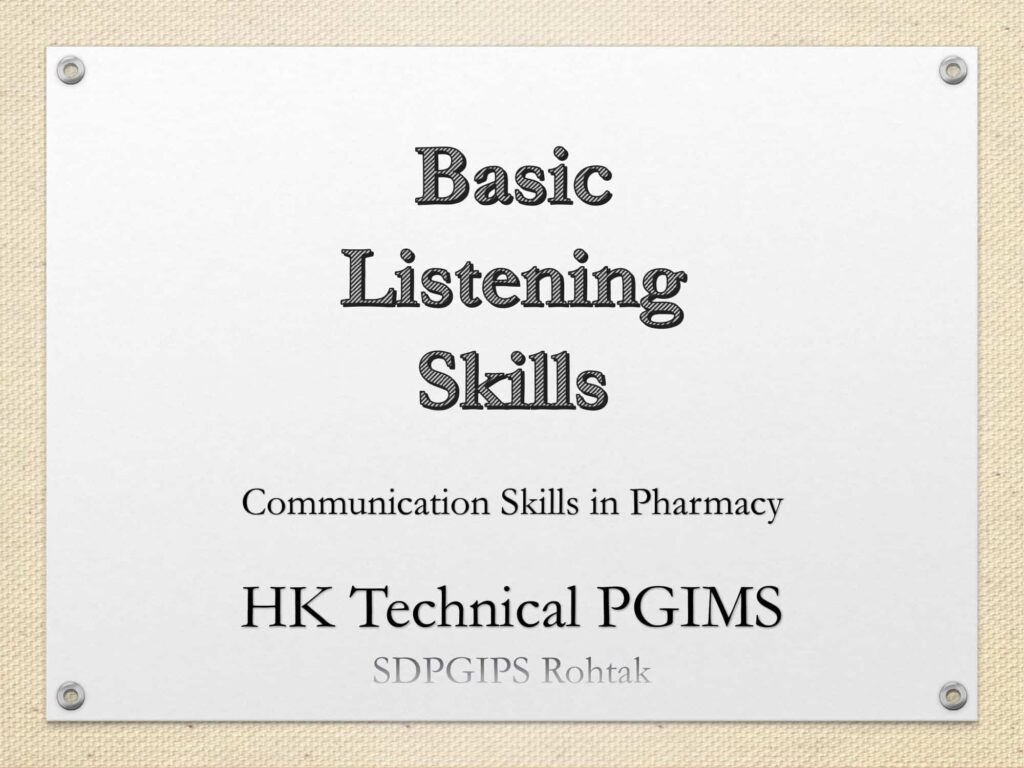 Topic Covered:
Introduction to Basic Listening Skills
What is Listening
What are Listening Skills
Importance of Listening Skills
Types of Listening
Active Listening
Characteristics of Active Listener
Barriers to Active Listening
Listening Skills in Pharmacy Practice
Also Read Communication Skills Presentations B Pharmacy 1st Semester Chapter-wise
Also Read PPT on Communication Skill, Its Importance – B.Pharmacy Communication Skills
Also Read PPT on Barriers To Communication – B.Pharmacy Communication Skills
Also Read PPT on Perspectives in Communication – B.Pharmacy Communication Skills
Download Presentations
Summarizing
INTRODUCTION
Listening is a visual as well as auditory act, as we communicate much through body language. Listening is getting verbal communication through the ear which involves identifying the sounds of language and processing them into words and sentences.
What is Listening
The process of receiving, constructing meaning from, and responding to spoken and / or nonverbal messages; to hear.
Importance of Listening Skills
An attentive listener stimulates better speaking by the speaker
A good listener learns more than an ordinary listener.
A good listener learns to detect prejudices , assumptions and attitudes.
Communication is not complete without effective listening.
Types of Listening
Discriminative listening
Biased listening
Evaluative listening
Sympathetic listening
Relationship listening
False listening
Initial listening
Discriminative listening
It involves identifying the difference between various sounds. It also enables one to differentiate between familiar and unfamiliar language.
Active Listening
Active listening is a communication technique used in counseling , training , and conflict resolution . It requires that the listener fully concentrate , understand , respond and then remember what is being said.
Pretense Listening
It involves more hearing than listening . It means pretending through facial expressions that one is listening when actually one is not.
Selective Listening
It involves selecting the desired part of the message and ignoring the undesired part of the message.
You can read more content from presentation given above.