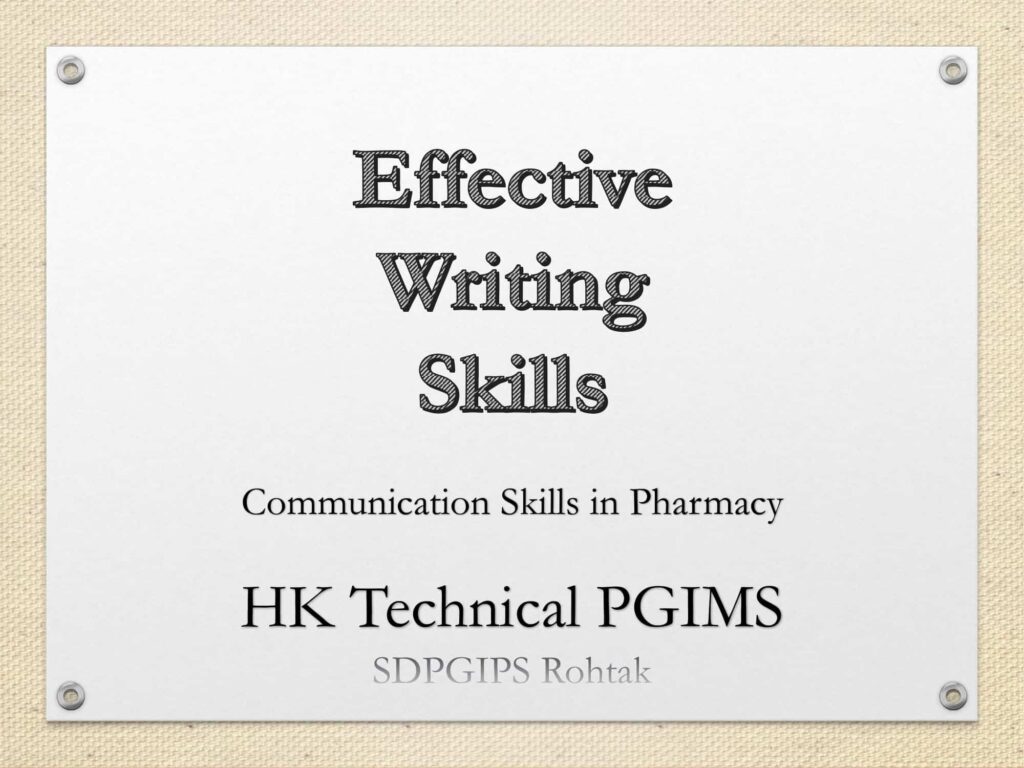 Topic Covered:
Introduction to written communication
Mode of written communication
Factors influencing writing skills
Importance of vocabulary
Applications of written communication
Pros and Cons
Ways to enhance writing skills
Also Read Communication Skills Presentations B Pharmacy 1st Semester Chapter-wise
Also Read PPT on Communication Style – B.Pharmacy Communication Skills
Also Read PPT on Communication Skill, Its Importance – B.Pharmacy Communication Skills
Also Read PPT on Basic Listening Skills – B.Pharmacy Communication Skills
Download Presentations
Summarizing
INTRODUCTION
"Learning of a language involved the acquiring of ability to compose correct sentences" this means like other Skills in communication written communication provide excellent opportunity to make a good impression on others. Writing is a skill which is important in college And after college in a complex and changing society.
Writing skills is important for personal development because it requires concentration, focus and discipline to represent our in thoughts in a word/ sentence/ graphical form.
The important fact is face to face communication is not possible always so that to spread message to workers of an organization may be spread to over widely spread geographical distances by written communication. So that there is number of reasons that shows where is written communication is effective, and where it is not?
Complexity of topic
Amount of discussion required
Shades of meaning
Formal communication
Barriers in learning writing skills
Lacking of Vocabulary
Learning Grammar
Lack material source
Lacking of time
Importance of vocabulary
As words are the writers most important tools, vocabulary development must be an part of classroom writing/ learning/teaching. This can be improved by adopting following methods:
Teachers should offer direct instructions of techniques or procedures.
New vocabulary terms should be connected to students.
Students should be able to conceptualize the vocabulary terms they have learned.
Practice and repetition are the important methods
Advantages(Pros) of writing skills
Written communication is more precise and explicit.
Effective written communication develops and enhances an organizations image.
It provides ready records and references.
It is a permanent means of communication. Thus it is useful where record maintenance is required.
Disadvantages(Cons) of writing skills
It is time consuming as the feedback is not immediate.
Too much paper work and e-mails burden is involved.
Written communication does not save upon the costs.
It costs huge in terms of stationary and the manpower employed in writing/typing and delivering letters.
You can read more content from presentation given above.