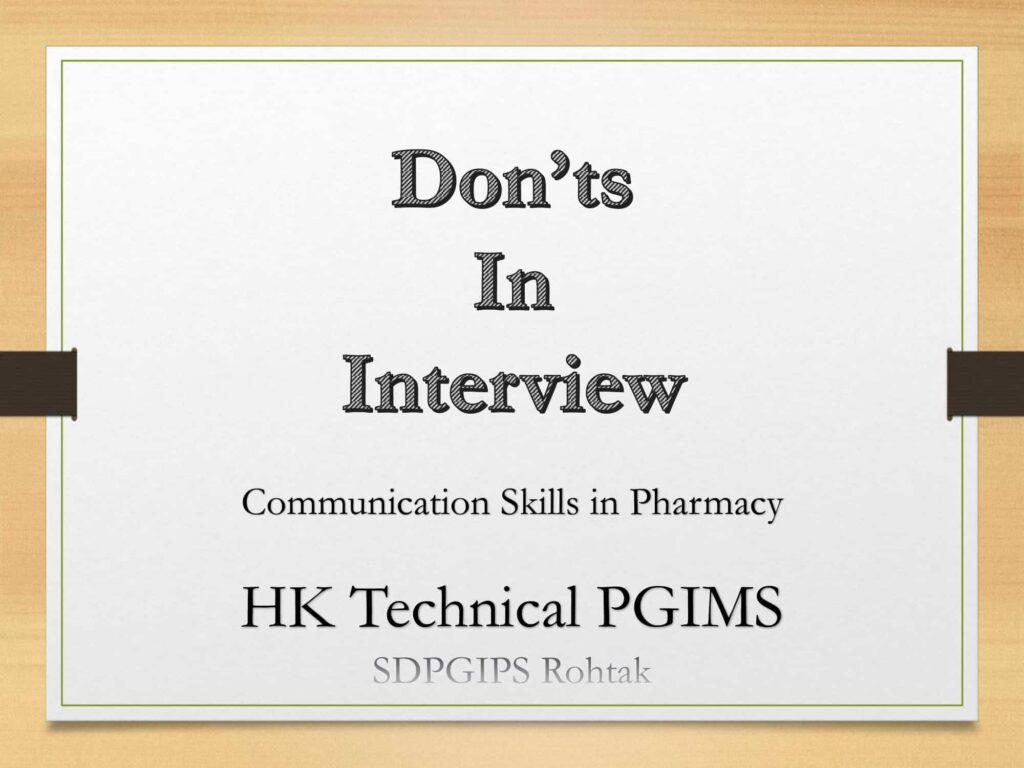 Topic Covered:
Introduction to Interview
Don'ts in interview
Talking too much
Lack of confidence
Being dishonest
Being Negative
Conclusion
Also Read Communication Skills Presentations B Pharmacy 1st Semester Chapter-wise
Also Read PPT on Communication Style – B.Pharmacy Communication Skills
Also Read PPT on Communication Skill, Its Importance – B.Pharmacy Communication Skills
Also Read PPT on Basic Listening Skills – B.Pharmacy Communication Skills
Download Presentations
Summarizing
Introduction
Interview is a face to face interaction between interviewee and interviewer.
An interview is a powerful exchange of ideas, the answering of questions and communication between two or more persons.
Interview can be defined as an attempt to secure maximum amount of information from the candidate concerning his/her suitability for the job under consideration .
Don'ts in Interview
Don't dress too casually or look untidy.
Don't make derogatory remarks about past or present employers.
Don't fidget or twitch, to control other nervous mannerisms.
Don't wear too much perfume or aftershave.
Don't talk about salary, holidays or bonuses unless they bring them up.
Don't interrupt the interviewer before they have finished asking you a question.
You can read more content from presentation given above.